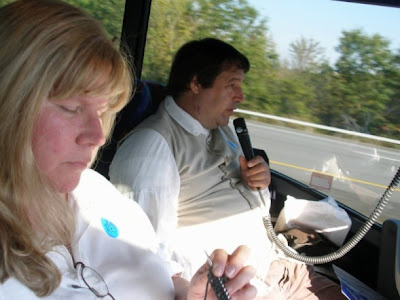 I've been on the road with Jim since Tuesday and man, am I tired. We've got 33 Elderhostelers. Trying to keep them on schedule has been like wrangling cats, but after 4 of them were 15 minutes late out of the hotel and onto the bus this morning, and Jim gave them all a little talking to and they seemed to have straightened up. We'll see how long that lasts.
Tonight we're in Albany. Tomorrow morning we leave bright and early for
West Point
, and then onto Philly. I barely have the energy to blog, so I'll post a few pictures.
My handpainted sock over Lake Champlain.


The Wallaby looking at Fort Ticonderoga from the lake.
By the way, you know how I said I would finish the Wallaby this during the trip? Yeah, well, I must have been tripping. No way is that happening! But that's OK.
OK, off to sleep for me now. Maybe some blogging tomorrow?